Craig Barnard, President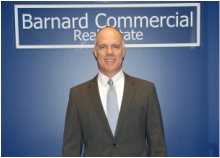 "...with the new tenants that you brought to us...our center continues to be one of the areas largest and most diverse community shopping centers. Our tenants are doing well and we benefit by receiving a strong long term cash flow..." - Greg A. Hemstreet, President

---
Craig is a native Oregonian with a Bachelor of Science Degree in Finance from the University of Oregon. He has a strong technology and entrepreneur background from his involvement with growing a start-up PC manufacturer in the 1980's from four employees to two hundred and fifty seven employees. Between 1991 and 1999 he worked as a Retail Leasing Agent in Portland for two international commercial real estate companies. After eight years of experience in shopping center leasing and tenant representation he founded Barnard Commercial Real Estate.

Craig is the Principal Broker, he is licensed in the state of Oregon and the state of Washington.

Craig's wife, Teresa Barnard, is the State Farm Insurance agent for Lake Oswego. Together with their four children they enjoy basketball, skiing and boating.


Partial Landlord Clients:
Killian Pacific
Hemstreet Development
Capital Realty
McMinnville Market Center LLC
Harsch Investment Company
Gramor Development
​Moore Clear Company

Partial Tenant Clients:
Tan Republic
RTM Restaurant Group
Red Robin International
Tricon Global
Stark's Vacuum
Sora Sushi
Cornell Urgent Care​